Panasonic AV-HS450E Multiformat Vision Mixer HD/SD 16 input
Did you find this item priced lower than £12,452.98 somewhere else?
Yes
Panasonic AV-HS450, AVHS450, AV HS450, HD switcher with 16 SDI inputs, 4 SDI outputs, 2 DVI outputs, and Dual-screen MultiViewer as standard equipment.


AV-HS450

HD switcher with 16 SDI inputs, 4 SDI outputs, 2 DVI outputs, and Dual-screen MultiViewer as standard equipment.
Multi-format Live Switcher
AV-HS450
(AV-HS450N, AV-HS450E)

| | |
| --- | --- |
| HD | 1080/59.94i, 50i, 24PsF*, 23.98PsF*, 720/59.94p, 50p |
| SD | 480/59.94i, 576/50i |
* AV-HS04M1, M2, M3, M4, M5, M6, M7, M7D, and M8 cards do not support 1080/24PsF or 1080/23.98PsF.

16 Standard Inputs/Six Standard Outputs(Max. 20 Inputs/10 Outputs)
The AV-HS450 comes standard with 16 SDI (HD/SD) inputs and six outputs (four SDI (HD/SD) and two DVI-D). Two expansion slots accommodate either input or output optional boards, providing a maximum of 20 inputs,*1 and 10 outputs.*2
*1: When using two AV-HS04M1, M2, M6, or M8 Input Boards.
*2: When using two AV-HS04M4 or M7 Output Boards.

HD/SD Multi-Format Support

Built-in Frame Synchronizer for All Input Channels
All standard input channels feature a built-in frame synchronizer for use in switching unsynchronized video signals. A gen-lock function also supports synchronizing systems based on external sync signals (black burst or tri-level).

Up-Converter, Dot by Dot and Video Processing
The AV-HS450 is equipped with an SD/HD up-converter function for four standard inputs, and a dot by dot function for 16 inputs. Dot by dot input can be used for P-in-P display of HD images from SD footage without degradation. A video processing function with color correction is also provided for eight inputs.

Four Aux Buses and Two P-in-P
Two P-in-P buses and four Aux buses are included. Borders and soft-edge effects can be applied to the P-in-P buses. In addition to a Cut transition, the Bus transition function (P-in-P bus and Aux bus* switching effect) also enables a Mix transition (Aux 1 only). Flexible operation is achieved by combining Aux buses and M/E sections.

* Embedded audio on SDI input signals can be passed through PGM, PVM, and MV.

A Wide Range of Transitions and Effects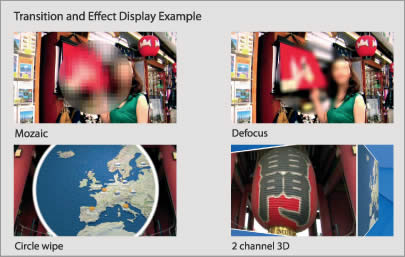 In addition to standard wipe, mix, and cut transitions, powerful 2D and 3D DVE effects, such as squeeze, slide, rotation and page turn, are available. Dual channel DVE effects are also available for dramatic key effects and other creative transitions. Useful new effects include variable mosaic and selectable defocus.



Primatte® High-Quality Chroma Key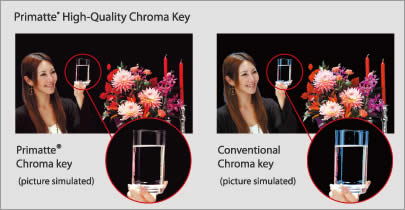 Linear, luminance and chroma keying are provided. Chroma keying employs the Primatte® algorithm, which is widely used as a plug-in for nonlinear editors. The same excellent Primatte® image quality that is used worldwide for movies, TV programs, music videos and commercials is achieved by the AV-HS450's real-time processing. Superior blue-spill processing naturally combines translucent objects, such as thin cloth and glass, with background colors. Extremely fine objects, such as individual
strands of hair, are faithfully reproduced. Two DSK channels are also provided to add borders, shadows, and other edge effects.

* Primatte® is a registered trademark of IMAGICA DIGIX Inc. Primatte® copyrights belong to IMAGICA DIGIX Inc. Primatte® patents belong to IMAGICA DIGIX Inc.

Shot Memory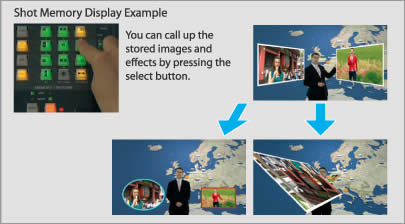 Up to 10 image effects, such as background transition patterns, P-in-P sizes and border widths, can be registered in shot memory for instant retrieval. The AV-HS450's Effect Dissolve function enables smooth switching from a current image to one of the images or operations registered in the shot memory.

Up to 20 Windows, Dual-Monitor MultiViewer Display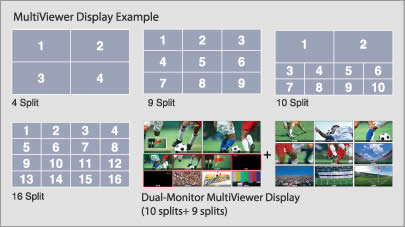 The AV-HS450 comes with a standard dual-monitor MultiViewer Display function. A maximum of 20 channels, including program (PGM), preview (PVW), and an input video signal can be simultaneously displayed on two screens. The exclusive feature lets you work comfortably with only two monitors, even at large-scale events. You can select from 4, 9, 10 and 16 split-screens.

Superior PTZ Camera System Control
The AV-HS450 offers advanced control of Panasonic pan-tilt camera systems,*1 including AW-HE120/HE50S/HE50H*2 HD Integrated PTZ Cameras. You can control one camera via direct serial connection, or up to five in conjunction with system controllers.*3 Up to 10 preset positions can be stored or recalled for each camera.

Redundant Power Supply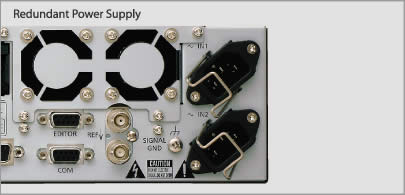 The standard redundant power supply increases reliability for use at live events.

3D Compatibility: Switch up to Nine 3D Image Inputs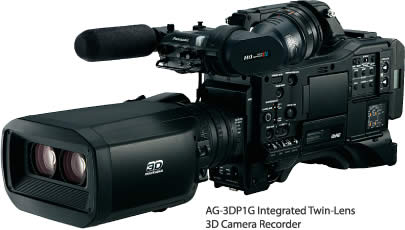 Mounting the optional AV-HS04M7D 3D SDI Output Board provides 3D compatibility. Eight pairs of 3D images standard, and a maximum of nine pairs of 3D images, can be input by dual SDI from 3D cameras and other sources, with two-channel bus switching. Transitions include cut, dissolve and wipe. Ideal for 3D sports acquisition, TV commercial production, and event recording.
• Compatible video formats in 3D mode: 1080/59.94i, 1080/50i, 720/59.94p, 720/50p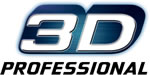 Primatte® Chroma Keying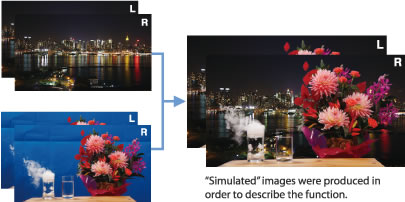 Primatte® chroma keying also supports 3D images (one channel each, left and right). This enables real-time, high-precision chroma keying on-site.

* Primatte® is a registered trademark of IMAGICA DIGIX Inc. Primatte® copyrights belong to IMAGICA DIGIX Inc. Primatte® patents belong to IMAGICA DIGIX Inc.

Three LR Mix Outputs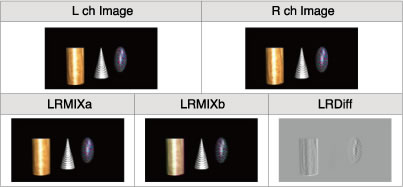 The LR mix image output function allows the left and right channels of stereo 3D images to be checked on a 2D monitor.

Rig-Type 3D Camera Correction Assist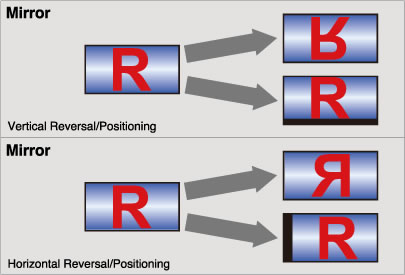 Vertical/horizontal reversing and position correction are possible for all 16 channels of SDI standard inputs. This helps to adjust the optical axis of a rig-type 3D camera when producing 3D footage.

3D Video Signal Status Monitor Displays


AV-HS450 System Configuration Examples
• HD/SD Production System