Atomos MasterCaddy 4K RAW 500GB by Angelbird - AB-4KRAWATOM500
Did you find this item priced lower than £323.34 somewhere else?
Yes
Atomos MasterCaddy 4K RAW 500GB by Angelbird - AB-4KRAWATOM500
Angelbird ATOMOS MasterCaddy 4K RAW 500GB

DEVELOPED EXCLUSIVELY FOR ATOMOS 4K RAW WORKFLOWS.
Ready for anything your Atomos recorder can throw at it. Records high frame rates and raw CDNG files with ease, thanks to the unique feature set and its sustained write speed up to 510MB/s.

NOTE:
For full compatibility please ensure that your Atomos recorder is upgraded to at least firmware V8.1.
AUTHORIZED ACCESSORY
The Master Caddy 4K RAW is a custom designed SSD for Atomos products that integrates the Master Caddy rails into a rock solid aluminium body, quick grip release and unique Angelbird Stable Stream™ design for recording high data rate CDNG RAW and 4Kp60 video recordings.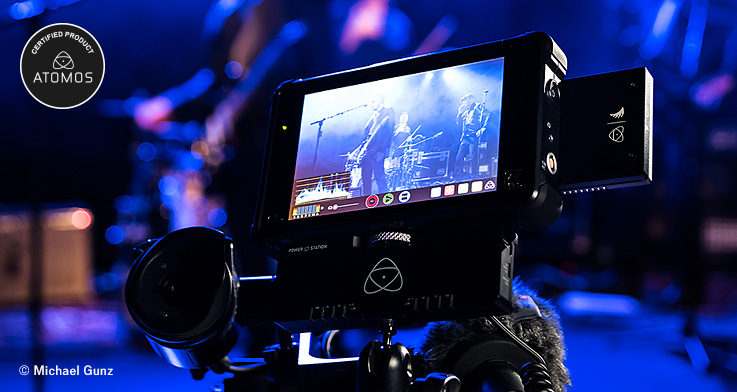 FEATURES
Sustained read 560 MB/s
Sustained write 520 MB/s
500GB | 1TB | 2TB | 4TB
Stable Stream™
4K60P | HD240
4K30P | CDNG
Host power loss protection
Developed for ATOMOS
Power smoothing
Shock &
temperature proof
X-ray &
magnetic proof
ESD & overload
protection
Adaptive thermal
protection
CNC worked
aluminium heatsink
Rock-solid build
Media Pouch for:
1 x 4K RAW | 2 x CFast / CF | 3 x SD
3-year limited warranty
---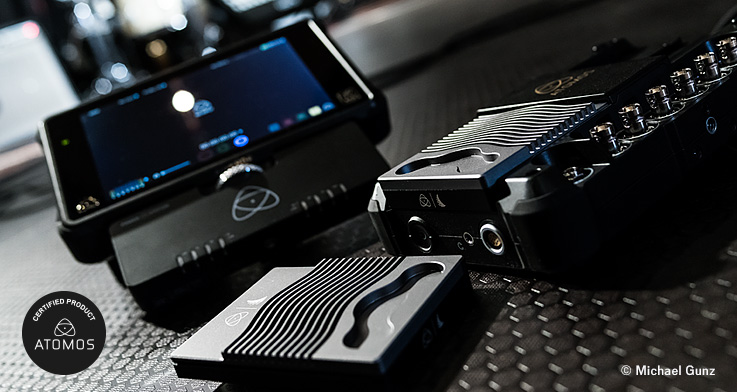 ---
SPECIFICATIONS
General
CAPACITY500GB | 1TB | 2TB | 4TB
FORM FACTORATOMOS MASTERCADDY 4K RAW
Compatible with *
DIMENSIONS104 x 75.5 x 11.7 mm (4.09 × 2.97 x 0.46 inch)
WEIGHT~ 220.0 g | ~ 7.7 oz
Performance
SUSTAINED READ SPEED

1
560 MB/s
SUSTAINED WRITE SPEED

1
520 MB/s
ACCESS TIME (R/W)~ 65 µs | 40 µs
Reliability
MTBF2,400,000 hours
DATA RELIABILITYBuilt-in EDC | ECC function
DATA RETENTION10 years at 25°
ENDURANCE
512 GB: up to 1,500 TBW
1 TB: up to 3,000 TBW
2 TB: up to 6,000 TBW
4 TB: up to 12,000 TBW
CERTIFICATIONSRoHS, CE and FCC compliant, REACH
Electrical
DC INPUT VOLTAGE5V ± 10%
POWER USAGE (IDLE/MAX)
512 GB: 1.35W / 4.7W
1 TB: 1.35W / 5.4W
2 TB: 1.80W / 5.4W
4 TB: 1.80W / 5.4W
Technical
INTERFACESATA 6Gb/s, 3Gb/s and 1.5Gb/s supported,
SATA 3.0 compliant
OVER PROVISIONING~ 9 %
FEATURESTemperature sensor, overload protection, TRIM, ECC, EMS protection, built-in cache, SMART, NCQ, adaptive thermal protection
Environmental
SHOCK RESITANCE (OPERATING)1000 G/0.5ms
VIBRATION RESISTANCE (OPERATING)2.17 GRMS
OPERATING TEMPERATURE-20 °C ~ +105 °C
STORAGE TEMPERATURE–40 °C ~ +85 °C
OPERATING HUMIDITY5 % to 95 % non-condensing
*Compatibility list
SUMO | SHOGUN | SHOGUN INFERNO | SHOGUN FLAME | SHOGUN STUDIO | NINJA FLAME | NINJA ASSASSIN
Package content
• ATOMOS 4K RAW
• Media Pouch for 1 x 4K RAW | 2 x CFast / CF | 3 x SD
• Activation code for the full limited warranty and additional free software licenses and content
Warranty
2
3-year limited warranty
1
... Measured with ATTO Benchmark Tool 3.05
2
... To receive the full limited warranty, the product needs to be registered on the Angelbird Personal Service Portal within 30 days after purchase. If not registered within this period, the market-specific legal guarantee period comes into force.
Future Proof SD Cards/SSDs for Your Camera and Computer From Angelbird