AJA HB-R-SDI HDBaseT to SDI Mini Converter - HB-R-SDI-R0
Did you find this item priced lower than £453.60 somewhere else?
Yes
AJA HDBaseT to SDI Mini Converter - HB-R-SDI-R0
The HB-T-SDI and HB-R-SDI offer an easy solution for extending SDI signals up to 100 meters over Cat 5 (or better) cable, utilizing the industry standard HDBaseT protocol. Bi-directional IR and RS-232 for device control is also supported, making these Mini-Converters ideal in a variety of scenarios including: fixed installation AV, digital signage, live events, postproduction/network/studio environments and on-set.
FEATURES
HDBaseT certified signal extender
Converts HDBaseT to 3G-SDI
Extend uncompressed SDI signals up to 100m over Cat 5 (or better) cable
Configure via USB port and supplied Mini-Config software
IR IN and OUT
RS-232 device control connection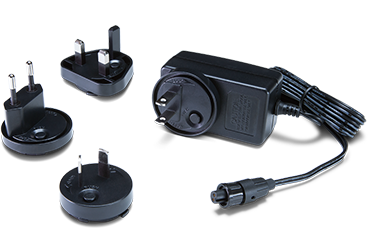 Universal Power Supply
All AJA Mini-Converters ship with a universal power supply that includes international plug connections for use around the world.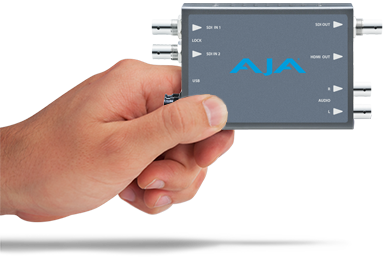 Compact and Portable
AJA Mini-Converters are small enough to fit behind a monitor, in the back of a rack or directly on a camera rig. A locking power connector can't accidentally pull loose and an optional P-TAP power cable allows for battery power in remote locations.
---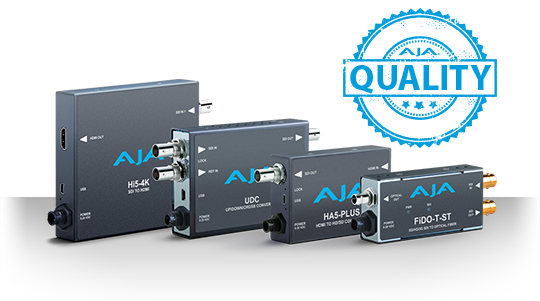 AJA Quality - Guaranteed
All AJA Mini-Converters are covered by a five year warranty and AJA's advanced replacement policy. If a replacement is necessary, AJA will ship a new unit immediately without the need to send the original unit back first, ensuring you are up and running again as quickly as possible.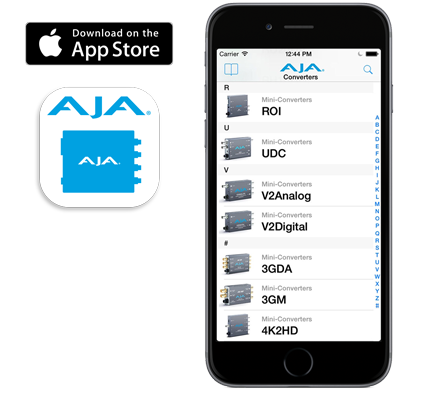 AJA Mini-Matrix
Information on the complete line of AJA Mini-Converters is now available as a mobile app on iOS. The Mini-Converter product line is extensive and this app helps you find the right converter for any situation, wherever you are.
Individual products have links back to the main AJA website for more details and you can email product information directly from the app. The free AJA Mini-Matrix app for iPad® and iPhone® is available now in the Apple iTunes® Store.
SPECIFICATIONS
Video Formats
(2K) 2048 x 1080p 23.98, 24, 25, 29.97, 30, 50, 59.94, 60
(HD) 1080p 23.98, 24, 25, 29.97, 50, 59.94, 60
(HD) 1920 x 1080i 50, 59.94, 60
(HD) 720p 25, 29.97, 50, 59.94, 60
(SD) 625i
(SD) 525i
*PsF formats are converted to progressive outputs over the HDBaseT link
---
Video Input
---
Video Output
---
Video Displays
HDBaseT Cable Run Performance for 4K/UltraHD/HD
W x H
Frame Rate
Color
Sampling
Max. Cable Length
Max. Bit
Depth
Cat 5e/6
Cat 6a/7
1920 x 1080
< 30 fps
4:2:2
100 meters
100 meters
16-bit
> 30 fps
4:2:2
100 meters
100 meters
12-bit
4:2:2
70 meters
100 meters
16-bit
2048 x 1080
< 30 fps
4:2:2
100 meters
100 meters
16-bit
> 30 fps
4:2:2
100 meters
100 meters
12-bit
4:2:2
70 meters
100 meters
16-bit
3840 x 2160
< 30 fps
4:4:4
70 meters
100 meters
8-bit
> 30 fps
4:2:0
70 meters
100 meters
8-bit
4096 x 2160
< 30 fps
4:4:4
70 meters
100 meters
8-bit
> 30 fps
4:2:0
70 meters
100 meters
8-bit
 
---
Audio Output
3G-SDI Embedded Audio
8-Channels (4 pairs) of SDI embedded audio supported, select from 16-Channels (8 pairs)
---
RS-232
1x 3.5mm TRS Input for RS-232/VISCA bidirectional signals
---
IR
1x 3.5mm TRS Input for IR Input
1x 3.5mm TRS Input for IR Output
---
Size (w x d x h)
4.0" x 4.6" x 1.0" (101.6 x 116.84 x 25.4 mm)
---
Weight
---
Power
+5 to 20V DC regulated, 9 watts max., AJA external power supply model DWP-U-R1, 100-240V, 50/60 Hz universal input
---
Environment
Safe Operating Temperature: 0 to 40 C (32 to 104 F)
Safe Storage Temperature (Power OFF): -40 to 60 C (-40 to 140 F)
Operating Relative Humidity: 10-90% noncondensing
Operating Altitude: <3,000 meters (<10,000 feet)